Breed Surveys & Data
The Belted Galloway Society, Inc. conducted surveys of herd-owning members in 1991, 1995 and 1997. A summary of responses to the most recent survey appears below.
Base Ranges


The third breed survey in December, 1997 netted data on approximately 1200 animals, one-fifth of our Beltie population. Breeders north of the Ohio River and in the Northeast supplied data on 24% of their head count, but Southern and Western breeders lagged, reporting on just 7% and 3% of their animals, respectively. Please bear this deficit in mind when noting comparisons between the regions. Northern averages are fairly definitive, but the percentage of Southern and Western animals included is too small to be considered more than a sampling. The good news is that breeders who did respond included excellent scale weights, weaning information, and precise measures covering 79% of the animals reported in this summary. The 21% which were estimated fell well within the ranges defined for each age group by the scale weighed and measured animals in the chart below.
Cows
Respondents to the 1997 breeders' survey included hip heights and lengths point-of-shoulder to tailhead for the majority of the 713 cows reported. Most of the reported animals fell within approximately 2″ of the following averages, with very few noted to have substantially greater or less height and length.
Females
Mature
Ages 3-4
Age 2
Age 1
Hip height
49.6″
48.8″
48.5″
47.2″
Length
53.4″
52.5″
50.0″
47.1″
Reported cows consisted of 571 purebreds and 142 Appendix, which is reasonably consistent with the makeup of our total female population (5,218 as of December, 1997, of which 75% are purebred). Differences between purebred and Appendix females' statistics were minimal, therefore they are both included in these summaries. Respondent breeders indicated preferences for first breeding of heifers ranging from 13 to 24 months of age, with overall average preference being 18.7 months. When size was used as first consideration, the average of expressed weight preferences was 775 lbs.
The Calf Crop
Eighty-three percent of respondents' eligible cows (2-1/2 years of age or older) produced calves in 1997, of which 54% were male and 46% were female. Seventeen percent of the reported cows lost calves or were open, this figure exhibiting a 3% decrease from the 20% noted in the 1995 survey. Mismarkings occurred in 9% of the reported purebred calves and 17% of calves produced by Appendix cows. Together this comprises 13% of the total reported calf crop, a significant decrease from the 22% and 17% noted in the 1995 and 1991 surveys. Spring is definitely the season of choice for calf production, with 57% of respondents' calves born in this season. Eighteen percent opted for summer calves, 13% of the respondents' calves arrived in the fall and 12% in winter. Birth weight extremes ranged from a low of 45 lbs. to highs of 101 and 102 lbs., but most calves were close to the overall average birth weights — 74 lbs. for males and 71 lbs. for females. Average reported birth weights for male and female calves, summarized by season, are: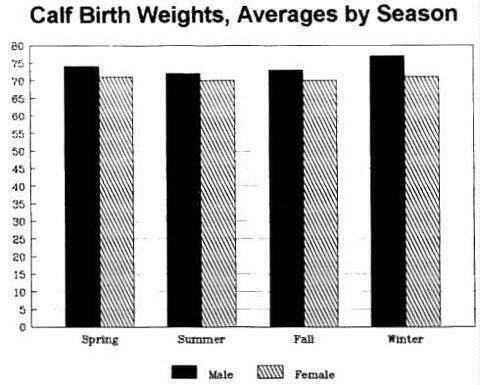 Weaning Weights
If the chart below reflects a marked similarity between All Regions data andNorthern data, there's a reason! All but a handful of the over 300 weanlings for which data was submitted arrived from breeders in the Northern region. Weaning information on just two Western and four Southern animals is included. The majority of the calves were weaned at or close to the overall average of 185 days (six months). Some, however, were removed from the dam as early as 120 days after birth, and a couple of calves were not weaned until achieving 12 months of age. Daily weight gains (ADG) calculated from the data supplied ranged from lows of .76 lb. to highs of 2.96 lbs. Slightly better rates of gain were noted among those calves allowed to nurse six or seven months. The overall average gains per day amounted to 1.78 lbs. for females and 1.88 lbs. for males. Actual weaning weights reportedly averaged 442 lbs. for females and 425 lbs. for males, which on the adjusted 205-day scale translates to 451 lbs., females, and 480 lbs., males.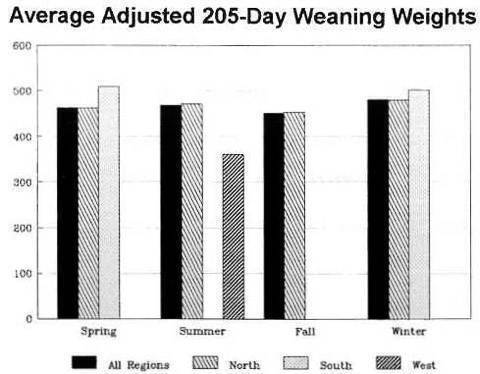 Bulls
Regional differences in the weight chart at the bottom of this page may be skewed by the fact that many bulls are purchased and transported to other areas; also, data was available on very few bulls from either South or West. Definitive information received on approximately 85 males was averaged for the table below. Hip height is from highest point of hip to the ground in inches, length is measured point-of-shoulder to tailhead.
Bulls
Mature
Age 4
Age 3
Age 2
Age 1
Hip height
54.6″
53.0″
54.0″
54.4″
49.9″
Length
61.3″
65.0″
56.0″
56.0″
50.9″
Scrotal, cm.
42.7″
–
–
37.3″
35.4″
Eighty-five percent of the respondents noted that they consider conformation when selecting herd sires, 56% also consider frame size, and 54% rated markings important. Over half noted additional criteria important to the selection process — disposition, pedigree, performance records and libido among them.
Health
Of 1200 animals included in this summary 10 were lost in accidents, 3 died of diseases, 2 birthing cows were lost and 17 calves were stillborn. Ten other animals were lost to causes ranging from torsion or bloat to poisoning. Total losses comprised 3.5% of the reported population. Calfhood vaccinations (brucellosis) were administered by 83% of respondents, 4% more than the 1995 survey indicated. In addition to the shots routinely administered, use of other injections were mentioned by one-third of the respondents, including IBR (rhino), BVD (Bovine diarrhea), and several forms of 7-way or 9-way preparations. Nine percent of the respondents have added rabies shots to their arsenal of preventatives.

Artificial Insemination
Nineteen respondents attempted a total of 72 A.I. breedings in 1997, with 46 calves resulting from these breedings (64%). These figures are similar to those included in the 1995 survey but less than the 92 reported in the 1991 survey. Artificial insemination costs reported in 1997 ranged from $25 to $400, with overall average cost calculated at $91 per live birth.
Embryo Transfer
Twenty-three embryo transfers in 1997 were reported by five survey respondents, resulting in 16 calves (70%). This success ratio is up from the prior survey's reported 50% live births. Costs in 1997 ranged from $300 to $500, averaging $378 per live birth overall. Respondents in 1997 reported five donor cow flushes, with viable ova counts ranging from 3 to 6.5. Average viable ova count was 4.8.
Freezer Beef
Eighteen respondents to the 1997 survey slaughtered cattle for the freezer, a similar quantity to those responding to the 1995 survey. Hanging weight in 1997 responses averaged 59.8% of live weight, a decrease from 61.1% reported in the prior survey. Hanging weights ranged from 57% to 64%. Preferred ages for slaughter ranged from 12 to 27 months, with overall average preference being 18 months of age. Average weight preferred for a slaughter animal was 1065 lbs.
Plea for Carcass Data
We have on several occasions included a carcass data reporting form in the U.S. Beltie News with the request that members converting Belties to meat would take time to supply the Society with their butcher's data on YIELD GRADE and QUALITY GRADE. By the close of 1997 we had received carcass information on less than two dozen animals — not enough to include a definitive report in this summary. An explanation of the data-gathering project and copy of the form are available on the Beltie pages at Peforming Carcass Evaluations. The information gleaned from submissions has been published as ranges and averages in a beef pamphlet designed to assist breeders establishing markets for their beef, available from the Belted Galloway Society. CONTACT US
Show Animals
In 1997 and 1998 weights and measures were obtained of 197 females and 76 males appearing at Belted Galloway shows and in the National Belted Galloway Sale. Ranges and averages on these animals are shown below. Weights are pounds, measures are inches except scrotal measures which are listed in centimeters. Length measurements are made from point-of-shoulder to tailhead. This table is apt to reflect optimum ranges, as it is likely that showmen would exhibit individuals reflecting top rates of gain. It should be stressed that balance, conformation, 'typeyness' and productivity are equally important (but very hard to quantify in a chart).
Females
Months age
Weight avg.
Weight range
Hip height avg.
Hip ht. range
Length avg.
Length range
2-4
241
165-316
34½
32½-36½
29½
23½-35½
5
301
202-356
37½
36-39
35
34-36
6
398
247-493
39¼
37¼-41½
38
32-41½
7
466
395-680
40½
38.75-43½
42
37-47
8
506
435-595
41¼
39-42½
42¼
38-45
9
511
463-578
41¼
39½-42
42½
40½-43
10
580
485-725
41¾
41-44
43
43-43
11
564
398-725
42¾
39-45¼
45¼
40½-49
12
675
510-785
42¾
39¾-44
40¾
38-42½
13-17
775
565-979
45¾
43-50½
47
40-57
18-23
898
500-1175
47½
42-50
48¾
41½-56
24-30
1013
775-1216
48¼
44¼-50½
49¾
44½-56½
31-35
1092
740-1355
49
44½-54½
50¼
49-51½
36 & over
1201
911-1730
49¼
45¼-56¼
52
48-56
Males
Months age
Wt. avg.
Wt. range
Hip ht. avg.
Hip ht. range
Length avg.
Length range
Scrotal cm.
2-4
227
220-234
35
35-35
28
28-28
-
5
322
302-342
35½
35-36
33
33-33
-
6
506
455-568
41½
40-42¼
42¼
42-42½
24½
7
537
465-630
41¼
39½-43
41¾
40½-43½
21¼
8
504
341-630
41¼
39-43½
42¾
41-44½
23¼
9
-
-
-
-
-
-
-
10
641
580-690
43
42-44
45½
43-47½
28¾
11
875
645-1090
46¼
44½-49
53
53-53
32½
12
909
706-1135
46¼
44¾-47
48½
48-49
32
13-17
975
727-1300
48¼
44-51½
52¼
48-56
31¾
18-23
1104
820-1450
48¾
45-53½
51¾
49-54
34½
24-30
1437
1150-1635
51½
49-53
58
57-59
36
31-35
1619
1450-1730
52¾
51½-55¼
58
55-62½
36¼
36 & over
1885
1830-1940
53¼
53-53¼
-
-
36